Placing an e-sports bet is simple. There are a variety of online bookies available for you to choose from and you can check out our review of the best e-sports bookies.
Our betting sites reviews will give you a guide as to what they offer for e-sport betting and the best deals available to make the most of your money.
Once you have made your decision on where you would like to make your bet, then the actual process of placing your first eSports bet is quite simple.
For the purpose of this guide I'm going to use images from Betway eSports, however it is an extremely similar process no matter what online betting site you choose.
Creating Your Account
In order to make a bet using an online betting site you need to first create an account with that site. We only link to the best betting sites for making e-sports bets so you can have confidence these are companies that will take the security of your personal data seriously.
Creating an account is very simple. Just click the register now link and fill out the form.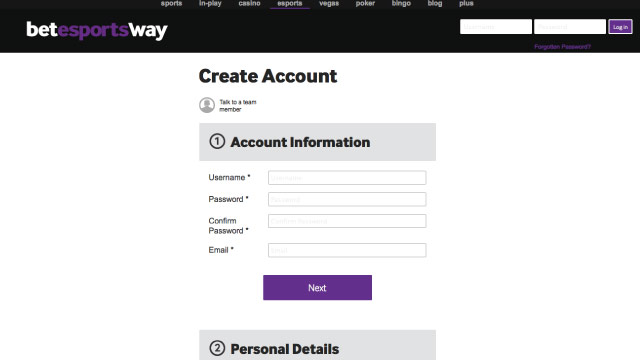 Your password will need to consist of a-z, A-Z and 0-9 and must contain at least 6 characters in Betway and this is true of most e-sports betting sites. It's important to keep a secure password on your account.
You'll need to register some personal details like your name, address & phone number too.
Lastly, you'll also need to confirm that you are legally able to gamble in your country. In the UK for example you will need to be at least 18 years of age. This varies from country to country though, for example you cannot bet on e-sports (or any other form of sport) online at all in most of the USA.
Choosing Your eSports Bet
Once you have completed your registration and have logged in you can easily make your bet using the navigational links to find the e-sport game you are interested in and the bet you would like to make.
For example, here I have navigated to League of Legends and selected the EU LCS Spring Split. This gives me options on the outright tournament winner and individual match winners.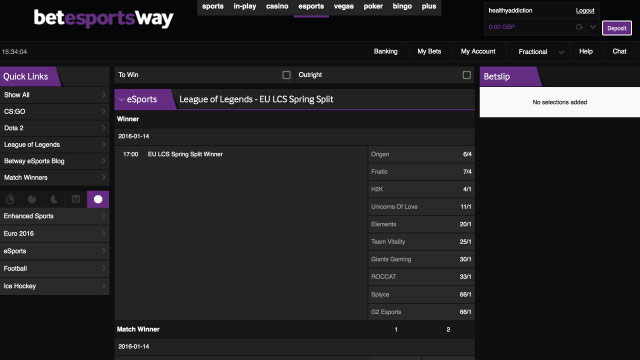 So you can see that if I thought that H2K will be the outright winner of the Spring Split then I would get odds of 4/1. This means II would receive four times my initial bet in winnings, as well as my initial stake.
For more information on how odds work you can check this guide.
If you are more interested in match winner bets you can see some example odds here too. In the Fnatic – Origen match I can get odds of evens (1/1) for Fnatic to win or 16/25 odds on Origen to win.
The majority of e-sports bets are on outright tournament winners or match winner bets. However some companies will offer handicap bets and more specialist bets such as on first to ten kills.
Placing a Deposit
You have chosen your bet, but before you need to make sure you have funds in your account. This is normally prominently displayed at the top of the screen. You can see that have no funds in my account in the image above on the top right hand side.
To deposit funds into my account I just need to press the deposit button and add the funds. Most sites give a variety of options for making your deposit. For example Betway allow:
Credit Card, Debit Card, PayPal, NETELLER, Skrill, Paysafecard, EntroPay, VISA, ecoPayz, Skrill 1-Tap, Instant Banking, ClickandBuy
So you can be sure that whatever your preferred method for depositing your funds you can do so securely.
Placing Your E-Sports Bet
Now that you have your funds you just need to click on the bet you want to place and it will be added to your betslip.
You can then enter your stake in and it will calculate your total stake (if you're making more than one bet) and the total return if your bet is successful.
You can see in the screenshot below I have put a £5 stake on Origen to be the overall winner of the League of Legends – EU LCS Spring Split.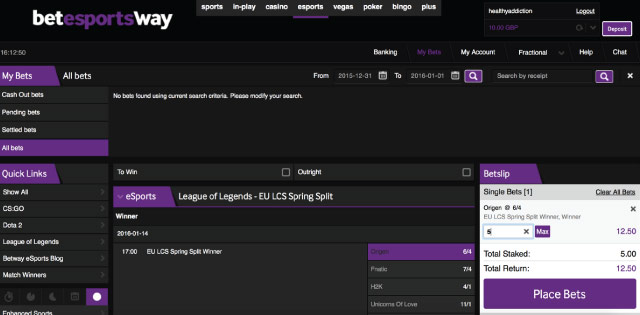 Now I just need to click the "Place Bets" submit button and my bet is placed.
Checking Your E-Sport Bet
Now that you've made your bet you will see a confirmation but you will want to check up on how your bet has done.
You can use sites like Twitch to watch the tournament in play if you would like, but for those of us who just want to know what we've won you can check out your account on the site and look for the section called "My Bets" or similar.
This will load up all of your bets and will let you easily see if you have won or not.
Any winnings will be added to your current funds and you can withdraw these at any point back into your bank account.
What Next?
Now you understand how e-sports betting odds work and you've learnt about the bookmakers to use in our article on the best e-sports bookmakers, you should get to know a bit more about some of the things to look out for when betting on esports.
Check out the next article in our beginner's guide that will tell you all about e-sports betting itself. It'll tell you all you need to know and look out for when betting on e-sports.
This will really help you to get to grips with e-sports betting online and help you to choose your next e-sports bet and have a better chance of success.
Best eSports Games
Quick Links